KRCL Presents: Talia Keys & The Love 9th Annual Halloween Bash
Presented/Guest

LIVE STREAM SHOW ONLY
Date

Friday, October 30, 2020

-
Time/Doors

8PM
Main Image
Description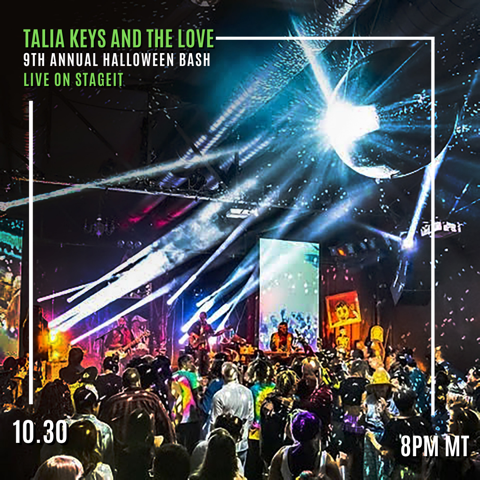 Talia Keys and The Love invite you to our 9th Annual Halloween Bash!
Invite your COVID circle over and stream on the big screen! We are playing a no audience show at The State Room and will be decorating like every year! This is our favorite show of the year and we can't wait to play for you!
Wear your costumes and tell your friends!
This year's theme is Ghosts of Halloween Past. We will be playing our favorite songs from the previous tributes as well as a set of originals.
We would love for you to join us!
Band Bio
Talia Keys & The Love is a foot-stomping, jaw-dropping soul-funk-rock n' roll band born after the charismatic front-woman, Talia Keys. Her killer line-up is a host of powerhouse musicians based out of Utah with songwriter Talia Keys on lead guitar and vocals, Ryan Conger (Joe McQueen Quartet) rippin the keys, the impeccable jam band veteran Dave Brogan (ALO) on drums, Josh Olsen tearin up the bass, and the incomparable Lisa Giacoletto adding soaring backing vocals.